Videographer: Marco Bello/Bloomberg
Fast-rising home prices allow a ritzy island to attempt climate adaptations few municipalities can afford.
Thomas Peterffy became one of the world's richest people by mastering risk on Wall Street. Building his Mediterranean-style mansion seven years ago on a vulnerable stretch of Florida's Palm Beach Island was a matter of seeing the odds clearly once again. The consequences of climate change will play out over decades, and Peterffy is 76 years old.
"I don't have a care about it at all," he said over lunch at Mar-a-Lago earlier this year, just down the street from his home. The founder of Interactive Brokers Group has a fortune of more than $21 billion, according to the Bloomberg Billionaires Index.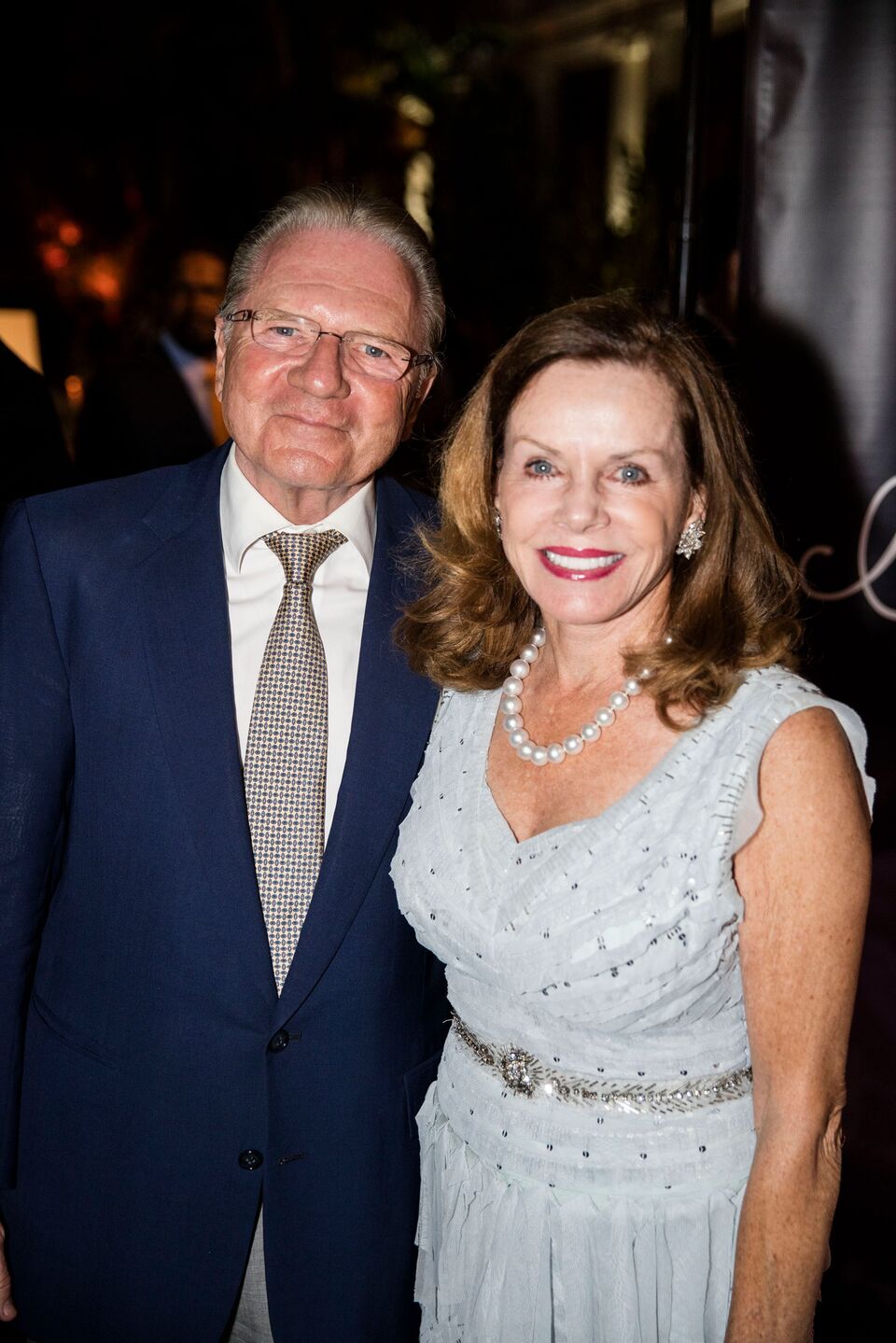 "If something needs to be done to save it," he added, "it's not going to be my problem."
The town of Palm Beach is busy adapting to the risks of a warming planet, even if there appear to be fewer worriers among the buyers and speculative builders on the island. Some of the lowest-lying properties in the U.S. are seeing the highest-flying prices. The real estate website Zillow estimates the value of Peterffy's home at $52 million. This year a new nine-bedroom mansion with toes-in-the-sand views sold to financier Scott Shleifer for a record-breaking price in excess of $122 million.
Waterfront real estate prices are rising across the U.S. in a frenzied pandemic-tinged market. During the first quarter of this year homes at high risk of flooding sold for a record 13.6% premium over less risky homes, according to brokerage Redfin. In Palm Beach the boom is being sustained by participants with short horizons and the security that wealth provides. Speculators are rushing to knock down the old and create spaces lavish enough to justify surging prices, and buyers are lining up. It probably doesn't hurt that Florida law requires no disclosure by property sellers of past flood damage.
In a frenzied pandemic-tinged housing market, "for sale" signs abound in Palm Beach.
Photographer: Marco Bello/Bloomberg
Wrestling with the long-term consequences falls to the town of Palm Beach, which is reliant on property-tax revenue in a state with no income tax. Florida's rising waterfront prices reliably fill government coffers—for now. Violent storms and more frequent flooding threaten to eventually wreck both home prices and municipal finances. The question is who, in the end, will bear the cost.
For new arrivals, the calculation is simple: "Let's build this thing the way we want it," said Michael John Vincent Spaziani, a property appraiser and member of Palm Beach's planning and zoning commission, of the prevailing outlook. "If it gets dangerous, we'll sell it and move somewhere else."
The development of Palm Beach began with moneyed chancers.
In the late 1800s, railroad tycoon Henry Flagler began turning the narrow barrier island's swampy tropical landscape into an oasis for the rich. By digging inlets, Palm Beach became separated from the mainland and eventually connected to the Intracoastal Waterway system that stretches to Boston. By the 1920s Palm Beach had become an established winter getaway, with grand hotels and houses with coral limestone facades, terra cotta tiles and tower lookouts. Locals developed pride in their historic architecture and the natural beauty that brought the rich there in the first place.
A century later, in the middle of the Covid-19 pandemic that nudged the restless rich out of locked-down cities, the historic pattern is repeating itself. Wealthy newcomers are seeking homes with oversized windows and open layouts. Some are establishing full-time residences rather than seasonal retreats, complete with leased office spaces and kids enrolled in local private schools.
There are modern-day differences. Nuisance flooding is becoming common to the south in Miami and Fort Lauderdale, and some homes in the Keys have already been made uninhabitable. While much of Palm Beach Island is at higher elevation, the water and winds threaten to press in from all directions.
Powerful king tides—a regular occurrence in the fall, with water rising higher and lingering longer—are getting more severe and now seem like a harbinger of what's to come. Last October's tides submerged boat docks and brought calf-high waters to the Lake Trail, a popular path that takes joggers past the mansions belonging to Charles Schwab and Henry Kravis. The grounds of former President Donald Trump's Mar-a-Lago club are vulnerable to intensified flooding conditions.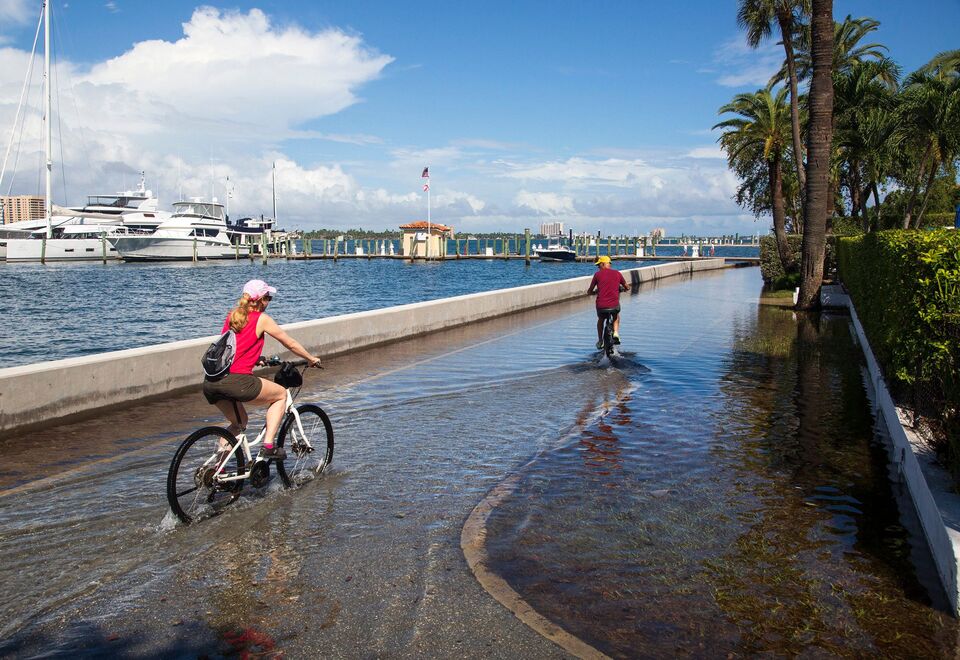 Even the 75-room palace Flagler built for himself, now a museum, puts down sandbags whenever heavy rain is in the forecast. But the town is willing to do much more to help safeguard the next generation of homes facing down flood risk.
To see a vivid example of this phenomenon, head to the end of El Brillo Way, the site of an estate previously owned by the late Jeffrey Epstein. In a white West Indies-style mansion with a pool overlooking a small cove on the intracoastal, the disgraced financial adviser sexually assaulted underage girls.
He paid Epstein's estate $18.5 million for the house in March, and now he's imagining the future. Glaser has drawn up plans for a new house in the Art Moderne style, with curved corners, upper-story terraces with bronze railings and enough bedrooms for up to 12 people. Inside will be finishes of bleached driftwood and sand-blasted stone, while the outdoor spaces will include a kitchen, hot and cold spas, and hammocks stretched between coconut trees.
Glaser is building a new waterfront mansion designed by architect Kobi Karp, replacing a now-demolished estate owned by Jeffrey Epstein.
▼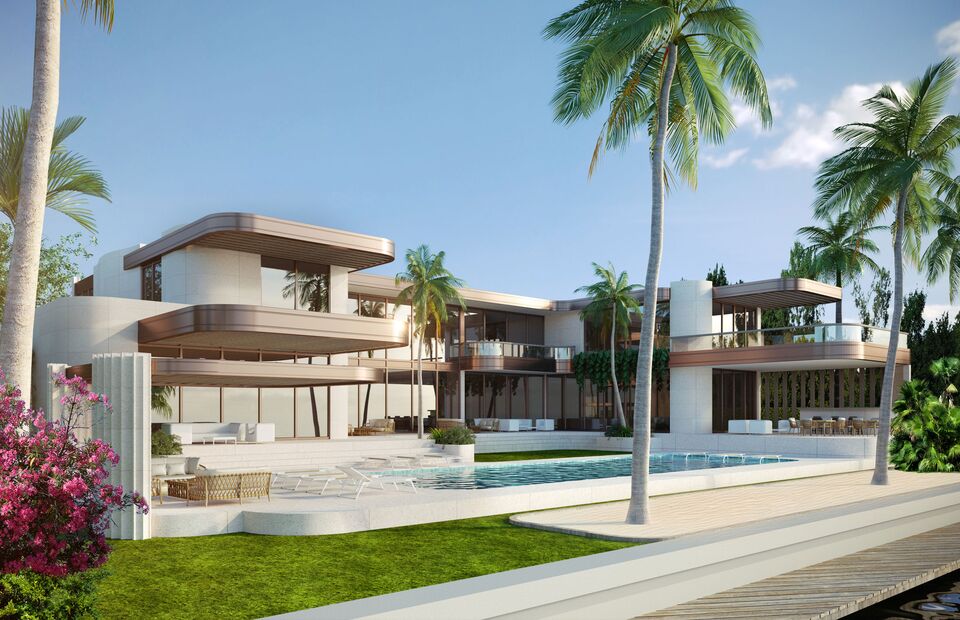 Glaser said the project could more than triple his initial investment, easy, once construction is finished. There's one crucial amenity he's already showing off.
He arrived at a municipal pumping station next to the Epstein site in his black Mercedes-Maybach with an orange pinstripe, the car door emblazoned with his initials. The 57-year-old Miami native jumped onto the concrete-and-steel pump station, recently rehabbed by the town at a cost of $700,000. The system kicks in whenever water threatens the hedge-lined street.
A sale price of, say, $70 million would be a boon for Palm Beach. "Because that's $1.4 million in taxes," Glaser said of his project. "The city is listening to the billionaires."
Pumps aren't the only climate defense. Glaser said he will build higher than the mansion that preceded it, satisfying the requirement to exceed Federal Emergency Management Agency flood maps. Plus, there are seawalls. On the tour of the pumps, Glaser picked up a dead fish on the wrong side of the barrier and tossed it onto the moss-covered rocks.
Epstein lived on a low-lying stretch of Palm Beach property with a 98% chance of flooding over the next five years, according to First Street Foundation, a nonprofit that measures climate risk for individual properties. "We're spending a lot more money now to protect a guy who's not buying it now but who could be buying it 50 years from now," Glaser said.
Like many coastal Florida cities and towns, Palm Beach is planning for an inhospitable future. Local officials commissioned the Woods Hole Group in 2017 to assess flood risks caused by climate change. Now the Massachusetts-based consultancy is finalizing a second report on how to protect the island, including more than 2,000 single-family homes.
Climate change in Palm Beach is a tale of two coasts. Homes on the ocean are best situated because they were built on a ridge that's about 15 feet above sea level, although that won't stop hurricanes or beach erosion. Properties along the yacht-lined intracoastal are the town's greatest vulnerability, with elevations as low as a few feet. This waterfront is especially challenging to protect because many of the bulkheads are privately owned and their heights vary. Future floods will send backflow from the intracoastal towards inland homes that also face threat from swelling groundwaters, said Keren Bolter, a South Florida climate scientist at consultancy Arcadis.
Seawall installation at property on the Palm Beach intracoastal.
▼

The town is in the midst of a $128 million, 10-year project to move utilities underground as well as a decades-long effort to replenish eroded beaches backed in part by federal funds. There's also spending to maintain and improve 13 stormwater pump stations. Even the $38 million upgrade of Palm Beach's marina includes a $3.6 million budget to add 2 feet of height to a 1,540-foot stretch of seawall owned by the town, with the ability to raise it another 2 feet in the future.
"We are not deniers," said Kirk Blouin, the town manager. "It's bright and sunny and the roads are bone dry, but we're preparing. We're not daunted by this. We think this is fixable."
Florida is investing $640 million in climate resilience, its largest investment to date, which could bring more funding to Palm Beach. The consultants from Woods Hole have been urging town planners to seek an Army Corps of Engineers study for a surge barrier. Nasser Brahim, senior climate resiliency specialist with the group, put it bluntly in a presentation to Palm Beach officials last month: "The town, we think, has been very very fortunate that it has not experienced a massive flood."
Steadily rising real-estate values have helped Palm Beach do what other municipalities cannot. This is true even when it comes to picking up trash from doorsteps four days a week. The town's reserve funds have grown to $129 million alongside the taxable value of real estate, which last year jumped almost 7% from 2019.
The town is anchored to the tax base, which must keep growing to pay for increasingly expensive climate defenses. Spaziani, the local appraiser, said the median single-family home in Palm Beach increased 27% from a year ago to more than $7 million. The value of new construction last year rose 139% to $267 million, more than the previous three years combined.
Billy Fleming, a landscape architecture professor at the University of Pennsylvania, sees a dangerous dynamic developing. The faster values grow, he warns, the bigger the crash will be when homes start flooding. Of course, the rich pay significant property taxes—Peterffy alone pays more than $600,000 a year—but those bidding up home values now are also adding to the expense of protecting low-lying land and might one day need rescuing when floodwaters come.
"This real estate boom is the last hurrah," said Fleming. "These guys are smart. They know the end is near and they are going to squeeze every last dollar out of that place before the rest of us are left to manage its decline."
Town officials reject this view. Instead they see the island's risk steadily decreasing, one renovated house at a time. That's because redevelopment projects raise the elevation of the upgraded structures. The current heights are "above what people are predicting to be a rational sea-level rise," said Brazil, the town official. "So I think we're ahead."
Consultants from Woods Hole are advising the town to not only protect public infrastructure but also make private property owners lift their homes and seawalls. The town, for example, could require homeowners to elevate if they complete a renovation project equal to 25% of the house's value. The current trigger for these adaptive changes is 50%.
Developers sometimes raise the ground underneath a home. But the piecemeal approach creates its own vulnerabilities. When some homes are high and others are low, there's rupture that opens up what local architect Gene Pandula calls "buck-tooth blocks." Without proper design, efforts to adapt can spark tensions between neighbors. Water flows downward, so an elevated house can push the problem next door.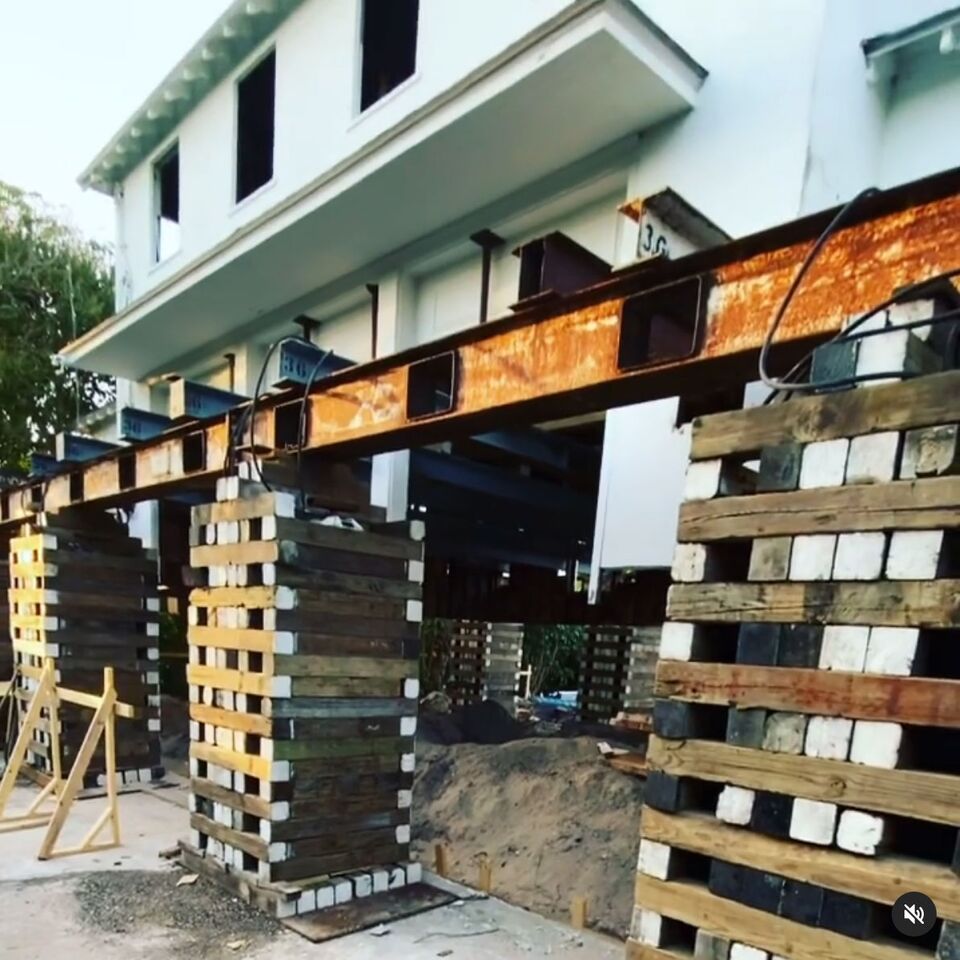 A couple houses down from Petterfy is the home of Robert Merrill, a bandleader and local radio host who plays numbers from the Great American Songbook on Legends 100.3 FM. He decided to spend about $200,000 to lift his 1959 home that he bought last year for $7.5 million. The project penciled out: He'd recoup his investment within about six years thanks to savings on insurance.
Merrill stood on his back porch and lifted his arm up neck high. That's where his house will be raised, about 9 feet above sea level. He removed the furniture inside the house in anticipation of the lift, even though it wasn't strictly necessary. "I was told by the people who are doing this I could have a dinner party" during the lift process, he said.
In other coastal areas where buyers have more moderate budgets, market constraints impose limits on construction that carries climate risk, said Jesse Keenan, a Tulane School of Architecture professor who studies climate change. Flood insurance is a prerequisite to getting a mortgage. FEMA recently announced plans to boost insurance costs, beginning later this year, to more closely align with the chances of flooding.
Palm Beach's richest homeowners aren't worried about those costs. National flood insurance only covers flood damage up to $250,000, above which homeowners would have to supplement with private policies from firms like Lloyd's of London or Pure Insurance. Since 1978 the town has ranked at the top of insurance losses and loss payments in the county, according to Woods Hole.
Already 84% of homes in the Palm Beach zip code are at risk of flooding this year, based on projections by First Street. By midcentury, 94% will have risk of flooding.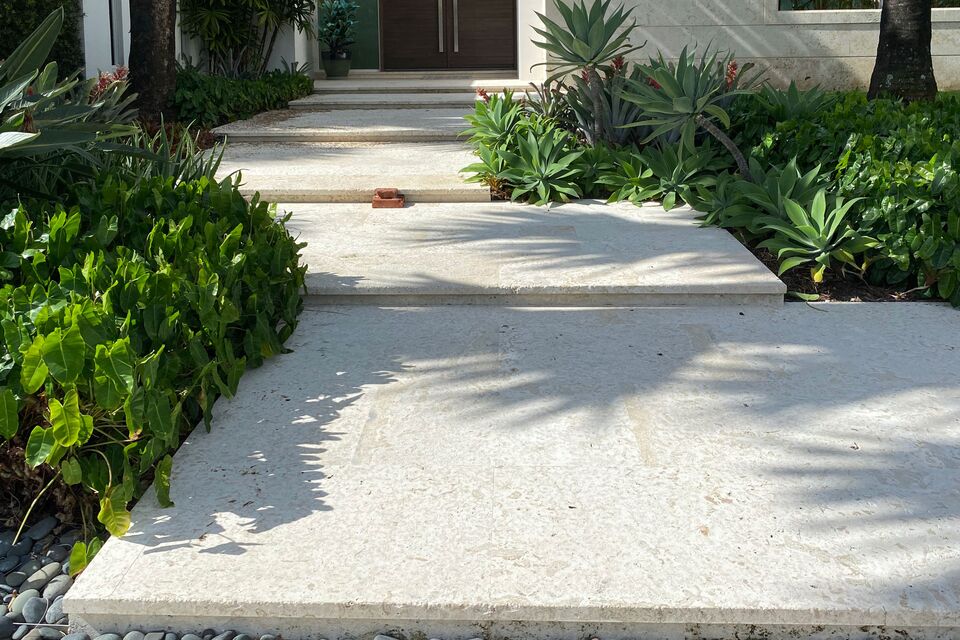 While architects working here have always designed homes with the coastal environment in mind, modern defenses against extreme weather have become even more important. These include hold-down clips to keep the roof from flying off, retainer walls around the perimeter, lawns that slope upward toward the house, steps that disguise elevation, and trees and vegetation to blunt the force of wind and water.
These protective enhancements can work. Anne Fairfax of Fairfax & Sammons Architects has seen the rubber marks left by a passive floodgate that prove it. She said the cost for such a gate, which only gets lifted when water arrives, is about $20,000 to $30,000. She recently added one to a 1920s home on Golfview Road that sold for $8.25 million.
"These are things that you don't see. It's not that you're putting up pretty wallpaper on the house," Fairfax said. "You're toughening it toward climate change and potential higher risk."'
Let's say these improvements succeed, for a time, in protecting coastal megamansions from the ravages of climate change. That still raises the question of who in the decades ahead will continue to pay ever-rising prices on Palm Beach. Two thirds of residents are over 65, a demographic that can discount long-term risks. Transplants with school-age kids aren't necessarily focused on the idea of passing the homes on to future generations, said Gavin Guinan, the chief operating officer of Woolems Luxury Builders. He's found some of his younger clients who've accumulated vast wealth on paper have time horizons of five to 10 years.
The billionaire Peterffy has talked to his grown children and found they have no interest in moving into his waterfront home. As a Hungarian immigrant whose father toughened him up by telling him to go find work if he wanted to eat, he doesn't let it bother him.
His children "think this is a bubble and a completely unrealistic way of living," Peterffy said with a laugh. "But you know I say to them, 'Look, I was born in a basement during the bombing raid and I starved for the first 20 years.' So I don't have to apologize."